Free Wedding for one lucky Military couple.
Entries still welcome!
A group of wedding industry professionals is offering a complete wedding for one lucky military couple. A complete wedding package — a day of Wedding Bliss — will be given to one lucky couple.
This package includes the venue, the DJ, your officiant, day of coordinator, photographer, videographer, drone operator, photo booth, live wedding painter, caterer, bartender, your wedding cake, invitations, dance lessons, travel honeymoon registry and a pet attendant!
Entry Details
Contest is open to Active Duty or Veteran (Status Verified) military soldiers and is gender neutral. #LoveIsLove
Rules
All contestants will be required to submit 500 words or less sharing who they are and why they want to win a FREE WEDDING.
Winner Requirements
Wear uniform for photography session day of if not wearing for wedding ceremony.
Adhere to maximum guest count of 200.
Must sign contract for services and release for usage of photos, videos by vendors for all marketing purposes.
Must provide own: rings, attire, hair & make up, transportation to & from venue, marriage license & day of event insurance (can be via USAA).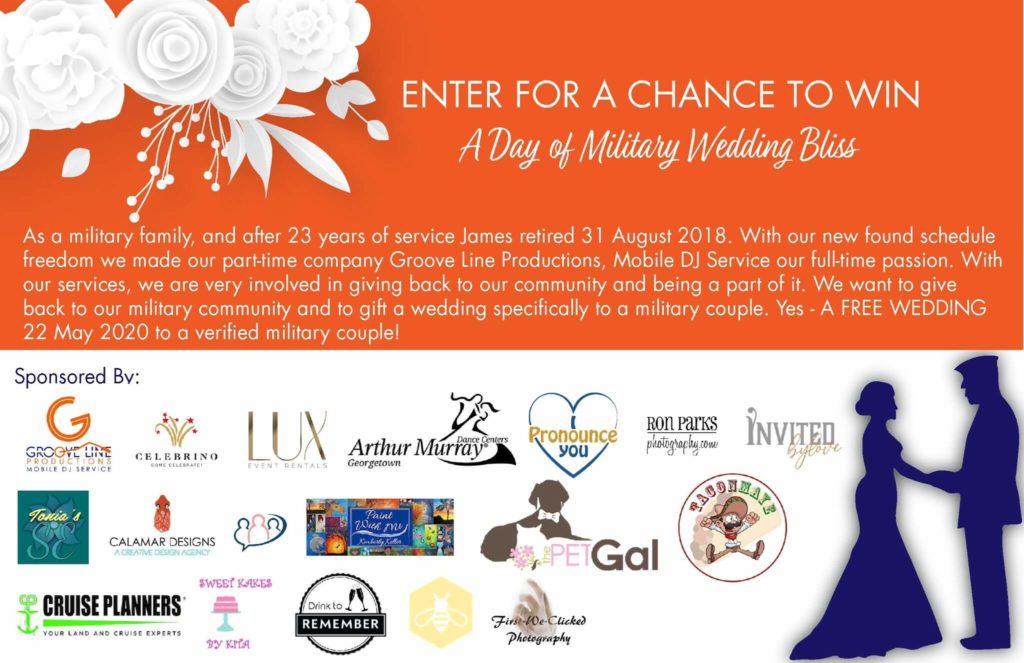 #MilitaryWeddingBliss #groovelineproductions #GLP #DJPtchBlaq #YoureInTheMix #GroovyAdventures #CelebrinoEventCenter #CelebrinoCouple #DrinktoRemember #SomethingSocial.TX #honeybeesmarketing #calamardesigns #ipronounceyou #sweetkakesbykita #ronparksphotography #firstweclicked #BoothThisWay #paintwithme #toniasevents #LuxEventRentalsATX #BrandMyOccasion #amgtx #YourWeddingDJ #AustinWeddings #YourEventDJ #GeorgetownWeddings #LoveIsLove #YourEventDJ #militaryweddings #weddingpetattendant #petgal #DestinationsbyJill #taconmaye_atx